July 26, 2021
New Minuteman Press Franchise in Missoula, Montana
Rebecca and Kirk Treece are the new owners of Minuteman Press in Missoula located at 2100 South Avenue West. They bought the long-running independent printing business Advertiser Montana Printing, which has a forty-year history in Missoula, and are now operating as a Minuteman Press franchise.
"It is a real honor to become part of Missoula's thriving business community," says Rebecca. "The Palmers (former owners) had a forty-year-long relationship with this community and their loyal customers have welcomed us and trusted us with their service, which has given us a great start here in Missoula.
"We are enjoying the opportunity to help others promote and grow their business. Getting the word out to the community that we are so much more than just a copy center has been key! We have been out meeting new people, marketing, and making connections through the Missoula Chamber of Commerce and BNI groups. Over the course of these six months, people have been welcoming and genuinely happy for us when we tell them about our new venture. Many have stopped by for a tour and have been responsive to learning more about the services we provide."
One of the ways Rebecca is looking to stand out as a new business owner is by expanding on the products and services offered by Minuteman Press and educating clients on what is in high demand right now.
"Our high-demand products are business cards, menus, point of sale products like invoices and forms, and medical facility materials," she explains. "As businesses open up, the demand for envelopes, letterhead, and other consumables has grown.
"Being part of Minuteman Press family has given us a huge opportunity to share with customers our expanded line of products like mailing, signage, apparel, promotional items. It has really given us the ability to help people promote their business."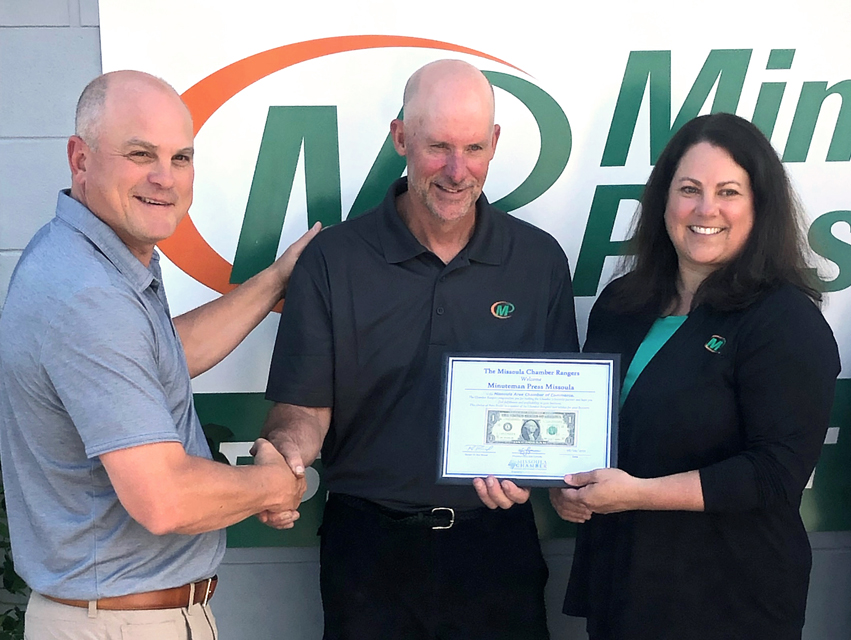 Career Transition
Prior to Minuteman Press, Rebecca and Kirk had varying careers.
"Before owning my own business, I was utilizing my teaching degree as a vision therapist at an optometry office in Missoula, working with children and adults to improve their visual skills," shares Rebecca. "My husband Kirk was previously a financial and operational manager for a large company. He and I also own a franchise of Fish Window Cleaning and Sunbelt Business Brokerage.
"We are familiar with business and the franchise concept but were really drawn to the Minuteman Press structure, training, support, and record of success."
While Rebecca and Kirk have experience owning a business, they had never been involved in the printing industry before. Minuteman Press really helped them fill those knowledge gaps and was crucial in finding the right business for them to buy through their special conversion program that connects sellers of independent print shops with qualified buyers.
"Advertiser Montana Printing was an independent print shop that had been in business for forty years, and they had a very loyal base of long-standing customers," says Rebecca. "An established customer base was the opportunity we were looking for when buying a new business. Our goal is 100 percent retention, and we have worked diligently to meet and develop relationships with each customer.
"We hit the ground running and it gave us an opportunity to get experience across the board. Our local Minuteman Press field representatives were able to train us on every aspect of the business, which gave us the confidence to meet the demands of our customers."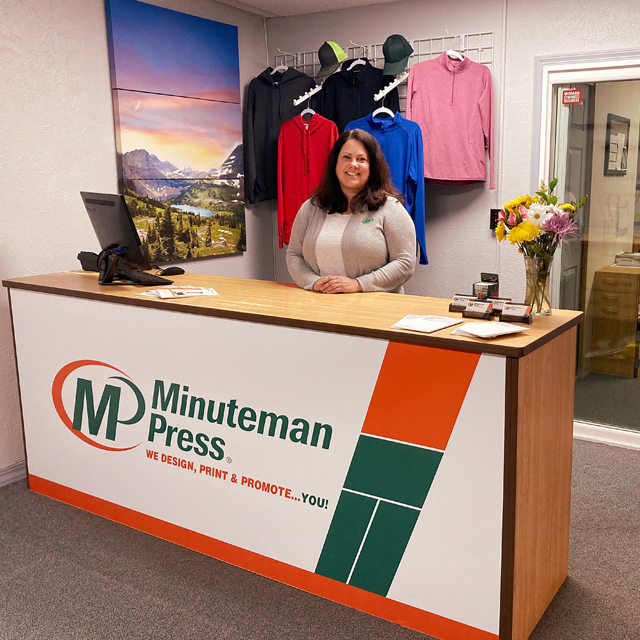 Owning a Business vs. Having a Job
Reflecting on her experiences as an employee and as a business owner, Rebecca shares her insights on the key differences between the two.
"As an employee, you work hard and serve the customer," she says. "However, you have very little control over the direction of the business. As business owners, we have the power to create the type of business we want and control its presence in the community."
As for Minuteman Press in Missoula, Rebecca and Kirk know exactly where they want to go. "Our goal is to become the premier printing and advertising design company in Missoula and the Greater Northwestern Montana area," says Rebecca. "We want to develop the reputation for supplying the highest quality products and having superior customer service. We strive to make Minuteman Press in Missoula the place to go for all advice and services.
"The main lesson Minuteman Press impressed upon me is that if you do not like the current state of your business, change it! Get up, get out there, market, make connections, and grow your business. We have been given the tools and the support to create something great and that is extremely exciting for us."
When asked about the rewards of owning her own business, Rebecca answers, "We are truly fortunate to have a highly skilled and dedicated staff and I love coming in every day to work side-by-side with these incredible people. It is personally rewarding to create a workplace that fosters teamwork and allows employees to create and take pride in their work. It is also very satisfying to develop quality relationships with customers and members of the community.
"Professionally, our goals are to grow this business significantly over the next year and become more involved members of the community. Business ownership has many challenges but the rewards are well worth it. Owning our own business allows us to balance our work and home lives and gives us the power to make the right decisions for our future."
—Press Release
The post New Minuteman Press Franchise in Missoula, Montana appeared first on Sign Builder Illustrated, The How-To Sign Industry Magazine.